---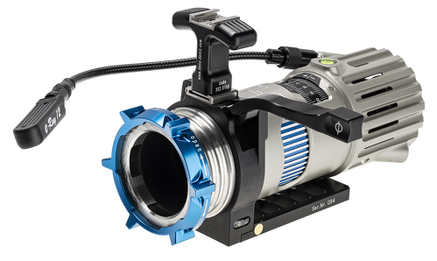 The DENZ PLC is a LED projector for checking the resolution and the focal length of lenses right up to the full format.
A precisely positioned new test slide can be used to check the focal length of the lens. For this, the position is read directly from the dial to <0.01mm.
Likewise, sharpeness of the center / edge, image distortion, homogeneity, lens marking of the distance and "pumping" can be tested in analogy to a commercially available stand projector.
The DENZ chart offers classical linepairs (from 12-200lp / mm) and Siemens star, where the image resolution is directly readable – even anamorphic 2: 1!The DENZ chart incorporates all modern sensor sizes: 1 ", MFT, APS-C, Super35, RED Helium, full format. Despite all compactness, great importance is placed on user-friendliness and usability.
For dark test rooms, there is a working light (gooseneck lamp with 20cm/7,87") included and the leveling lantern is illuminated. Additional equipment can be attached to the flash shoe, while the standard 24V power supply reliably hangs on the tripod. The DENZ PLC can be screwed to three ¼ " threads on the bottom, providing the necessary stability for heavy lenses. As an optional accessory, DENZ offers the support system DAVID or the DENZ DSLR support. A solid carrying handle completes a comfortable handling.
PLC PL – Portable Lens Checker for PL-lenses
Euro 5.925,00 
(zzgl. MwSt./ex VAT)
PLC – Calibrating Set
Euro 1.235,00 
(zzgl. MwSt./ex VAT)
PLC – Power supply unit (spare part)
Euro 187,50 
(zzgl. MwSt./ex VAT)
PLC E – Portable Lens Checker for Sony E-lenses
Euro 6.380,00 
(zzgl. MwSt./ex VAT)
PLC – Handle
Euro 268,00 
(zzgl. MwSt./ex VAT)
---
LED Lens Testing Projector MK6 for all established formats.
With the new Chrosziel Lens Testing Projector MK6, the flange focal distance of your camera lenses can be professionally checked. The projector also allows a visual check of a variety of parameters that make a statement on the quality of the checked optics. Our new projector combines new, ergonomic design with a variety of new features. The proved and tested functionality of the predecessor model has been taken into account in the development of the MK6 and rendered more precisely.
A variety of mounts with glass way for SD and HD, as well as for the various photographic and film lenses are available. We are happy to produce according to customer requirements. The provided remote control allows you to stay close to the projector screen at an optimum viewing distance and focus the image. Compatible with all established Lens Control Systems.
Highlights and technical details:
- New comfortable, ergonomic design
- Optimal illumination by bright LED light with 5000 K color temperature
- Integrated rod clamp for Ø15 mm and Ø19 mm rods
- New rotary switch for adjusting the dia position
- 2-step regulator for adjusting the light source (low/high)
- Plane Glass, mounted in slide holder
- Eclair C-Mount as base mount for all other mounts (e.g. Arri, PL, Canon, Nikon…)
- Low voltage orientation lamp on goose neck with XLR plug
- Mains supply switchable 115 / 230 volt AC
- Adjustment range for measurement of the back focal length: ± 1.3mm
- Cable-connected Remote Control
starting at
Euro 13.045,00 
(zzgl. MwSt./ex VAT)
---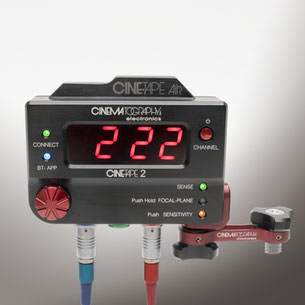 Measuring distance just became easier with the Cinematography Electronics CINE TAPE MEASURE System. This versatile ultrasonic system continuously calculates the distance between a subject and the camera's film-plane. By continuously measuring distance during a shot, small or subtle subject movements are no longer a problem. With non-stop measurements, focusing a camera lens is simplified which saves time, avoids retakes and reduces production costs.
The main components of our system are the CINE TAPE MEASURE CONTROL and the SENSOR ASSEMBLY. The control displays accurate distance measurements from the constant stream of data that is received by the sensors.
Our CINE TAPE MEASURE System is a small, rugged, lightweight, and quiet ultrasonic range finder. It is compatible with all lenses, film cameras and video cameras. In addition, our system is easy to set up and use, making it the first choice of professional filmmakers.
CINE TAPE MEASURE SYSTEM
(Price includes: Cine Tape Measure Control, Sensor Assembly, and a Sensor Cable)
Euro 6.615,00 
(zzgl. MwSt./ex VAT)
EXTENSION TUBES
Euro 340,00 
(zzgl. MwSt./ex VAT)
Cable, Sensor - Straight, Fischer 5 (spare)
Cable, Sensor - Right Angle, Fischer 5 (spare)
Euro 230,00 
(zzgl. MwSt./ex VAT)
Power Cable
Cable, Power - Arriflex, Fischer 3
Cable, Power - Arriflex, Fischer 11
Cable, Power - Aaton, Lemo 8
Cable, Power - Panavision, Lemo 2
Cable, Power - RED Camera, Lemo 4
Cable, Power - RED Camera, P-Tap (Anton Bauer)
each
Euro 230,00 
(zzgl. MwSt./ex VAT)
CineArm, Articulating Support Arm, NOGA (3/8-16 to 1/4-20)
Euro 145,00 
(zzgl. MwSt./ex VAT)
Pelican Carrying Case custom made
Euro 155,00 
(zzgl. MwSt./ex VAT)
---
The DENZ FDC classic tests the flange back of digital video cameras with PL-Mount (e.g. RED ONE, Sony F55, ARRI D-20/21/Alexa, Phantom HD, Weisscam HS-2). An absolute must for all those who work with precisely adjusted cameras.
The application is very simple and asks the user only for the ability to move a line by means of a hand wheel so that it comes to lie exactly in the middle between two beams. With the DENZ FDC classic, controlling micrometers is that simple.
The DENZ FDC classic is delivered in a well-padded carrying case, together with documentation, battery, cap and international power supply
Euro 3.800,00 
(zzgl. MwSt./ex VAT)
---
The FDC multi measures the flange focal distance of digital video cameras with Ø 54 mm PL mount, e.g. RED One, Sony F35, ARRI D-20/21/Alexa, Phantom HD, Weisscam HS-2 and also supports cameras with Canon EF mount, by means of an optional DENZ adapter ring. As one of the most popular DENZ products worldwide the FDC-multi is a must have for everybody, who prefers working with exactly adjusted cameras. International leading camera manufactures are using this measurement tool to calibrate their cameras before delivery.
For stationary use, e.g. in a studio, the FDC multi can be powered by a mains adapter (AC/DC:in: 100-240V; 50-80 Hz; 300 mA  // out: 5V; 1.5 A) Another possibility is, using the unit with a DC 3V battery which makes the FDC-multi very attractive for an easy handling on set, bringing laboratory accuracy to the field. To save battery power, the FDC-multi has included an automatic power off function.
When the FDC multi is mounted on your camera you can start the measuring procedure.The flange depth of PL mounts can be measured directly. On top of that shorter flange focal distances, like Canon EF/EFS, can be measured with the same accuracy as well by adding the additional EF/EFS adapter. The FDC multi provides a highly accurate connection which does not alter the measurement accuracy. Using the FDC multi with a variety of mounts becomes way more cost effective. Please note, that the adapter does not enable you to use PL lenses on Canon EF/EFS-mounts.
FDC Multi
Euro 4.575,00 
(zzgl. MwSt./ex VAT)
Canon EF Adapter for FDC multi
Euro 1.480,00 
(zzgl. MwSt./ex VAT)
---
The FDC Master is the embodied Flange Focal Distance. It resembles a camera that is reduced to its least number of parts. Machined with micron accuracy, it is a tool that you can rely on and use to verify the scale on your FDC or recalibrate it.
Euro 3.920,00 
(zzgl. MwSt./ex VAT)
---
Alle Preise sind Nettopreise, zzgl. der bei Rechnungsstellung geltende gesetzliche Mehrwertsteuersatz. Alle Angaben und Preise sind freibleibend und können ohne vorherige Ankündigung geändert, entfernt oder ergänzt werden.
All prices are net prices plus value-added tax. All specifications and prices are subject to change without prior notification. Errors and changes excepted.
---